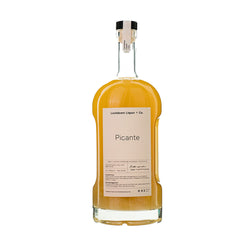 Lockdown Liquor & Co.
Picante - 1.5L
Need to awaken the fire within yourself? Then enjoy this pre-mixed Picante, which makes the most of blending sweetness and spice to wonderful effect. Like any great Picante, tequila is the base ingredient here - with the addition of a chilli making for a real heat magnet. This is countered by the cool sharpness of lime, however, and the sweetness of agave. Step up and enjoy a Picante to take the winter chill out of your bones. Just ensure you're prepared for the potency of this pre-mix.

INGREDIENTS
Reposado tequila, lime, agave nectar, chilli

WHAT IT GOES WITH
The presence of tequila as a base ingredient means that Mexican food is a fine companion to Picante, but it also pairs well with fresh fish and other light seafoods

ABOUT THE MAKER
Positives were hard to find in the lockdown of 2020, but the forming of Lockdown Liquor & Co. was one of them. Launched in London by Jack and Natasha Durling, the business specialises in expertly pre-mixed cocktails that only use the very finest ingredients to create astonishing blends and flavours. Starting out as recommendations over Zoom calls for an established business, Lockdown Liquor & Co. has grown in stature. This benefits everybody - all profits result in philanthropic donations to health charities.