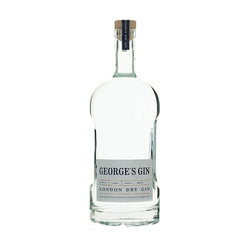 Georges Gin
Georges Gin - 1.5l
Gin should be treasured, not hurried. Served by the magnum, George's Gin offers this opportunity. There is far more to this bespoke blend than volume, though, with quantity matched by quality. Hailing from Oxfordshire, where the spirit is distilled and bottled with love, George's Gin matches the aesthetic splendour of a striking bottle with a fresh yet traditional taste that blends a bold opening with a herbaceous and zesty finish. Perfect when sipped neat or with tonic water, or as the base ingredient of a traditional Negroni or Tom Collins.
BOTANICALS

Lavender, rosemary, dill, alongside a range of herbs and popular gin botanicals, most notably cirtus peel, juniper berries and angelica root
WHAT IT GOES WITH
It is perfect for sipping neat or as part of a G&T. Naturally, though, you can also use George's Gin as the core component of a gin cocktail. The spirit provides enough enough zest to build create a strong taste sensation, without overpowering other ingredients.
ABOUT THE MARKER
George's Gin is created in conjunction with The Wood Brothers Distillery. Ed and Charlie Wood create breathtaking vodka and gin from their family farm in the Cotswolds. Having scooped multiple awards for the creation of their spirits.
The Wood Brothers have been crafting fine gin and vodka from a family farm in Oxfordshire since 2018, rapidly earning a reputation as prestigious creators of high level spirits. Sixth-generation farmers, Ed and Charlie Wood are the first generation of their family to turn their attention to distilling. Among the only Single Estate distilleries in the UK, the Wood Brothers embraces wholly sustainable - and distinctively personal - distillery practices.