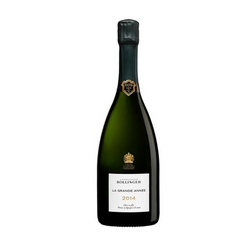 The Bollinger House
Bollinger La Grande Année Brut 2014, Champagne, France - 1.5l
2014 was a fine year at the Bollinger vineyard, and the release of this season's crop is a reason to celebrate. Uncorking the magnum releases a scent akin to crisp sea air, whie bright and sharp cherries are at the forefront of La Grande Année's initial taste. This front loads the champagne with a crisp intensity balanced by undertones of spice, citrus, and peach. A minerality lingers on the palate for a prolonged period, tempered by toasted brioche and the creamy vanilla traditionally associated with Bollinger. This balance of acidity and softness is unique, offering a greater volume, complexity, and power than many 2014 vintages produced by rivals.
GRAPE
WHAT IT GOES WITH
Naturally, caviar will always be the perfect companion for such a fine Bollinger. The creamy texture of this champagne also pairs well with traditional seafood, such as oysters and buttered lobster, or a light dish revolving around white meat.
ABOUT THE VINEYARD
Does any champagne house need less introduction than Bollinger? Founded in 1829 when the French Naval officer Athanase de Villermont teamed with Jacques Bollinger and Paul Renaudin to maximise the potential of an inherited estate, and placed firmly on the global map by Elisabeth Law de Lauriston-Boubers - aka Madame Bollinger - this champagne is frequently used as a byword for superior standards in the realm of wine. Today, the vineyard blends traditional family values with the latest and greatest technology to maintain the exemplary reputation of Bollinger, ensuring that the brand remains the last word in luxury.
FARMING

Conventional