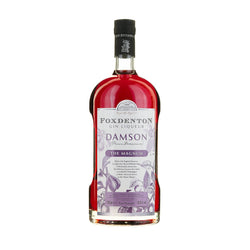 Foxdenton
Foxdenton Damson Gin - 1.5l
When it comes to fruit liqueurs, damson gin normally doesn't get much of a look-in, and that's a shame. At Foxdenton, damsons are given the respect they deserve. For this one, Foxdenton sources only the best damsons from Herefordshire, Northamptonshire and Kent. Combined with Foxdenton's top-shelf London Dry Gin and a sprinkling of British sugar, this makes for a serious drop that will give the best sloe gins a run for their money. On the nose, it's rich, jammy and bursting with ripe berry notes. Take a sip and it's got heaps of juniper, berry, almond and even Chinese allspice.
INGREDIENTS
English damsons, Foxdenton London Dry Gin and British sugar
WHAT IT GOES WITH
This old Radclyffe family recipe has pleased generations, whether out in the fields, on the first drive or at the table. It'll fit your hipflask like a glove, naturally, and it'll also go surprisingly well with rich, roasted game birds and meat.
ABOUT THE MARKER
The Foxdenton Estate has been in the hands of the Radclyffe family and its ancestors since 1367. Since the 1800s, the estate has enjoyed a long association with hunting, shooting and field sports. This was thirsty work, and Foxdenton began to produce its own fruit liqueurs for the private consumption of its owners and visitors. Current proprietor Nicholas Radclyffe took the reins in 2001 and decided that Foxdenton's old recipes should be reproduced on a larger scale for the enjoyment of others. After much meticulous trial and error, Foxdenton 48 London Dry Gin was launched in 2010, with the Damson Gin relaunched in 2012.