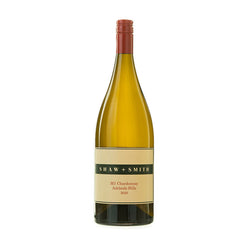 Shaw and Smith
Shaw + Smith 'M3 Chardonnay' 2018, Adelaide Hills, Australia - 1.5l
2017 was a vintage year for Australian Chardonnay, and Shaw + Smith have rapidly established themselves as a leading light in antipodean wine manufacturing. Combine these elements and you have a bottle that stands proudly among the finest Chardonnays on the market. Matured to perfection, this wine will never fail to delight the sense. Every sip will reveal new depths and complexity to the flavour and aroma, with grapefruit, white peach, nuts, white flowers, nectarine and lemon blossom all jostling for attention. Perfect for immediate consumption, though certain to age just as well, this is an effortlessly elegant wine to suit any occasion.
GRAPE
WHAT IT GOES WITH
This Chardonnay is a perfect accompaniment to poultry or game, ensuring that it's idea to be enjoyed on a terrace or barbecue on a summer's afternoon. The crisp taste ensures that it remains just as palatable when served alone or as an aperitif, however, or even with a side salad. This Chardonnay is vegan-friendly, so can be enjoyed by anybody that prefers to avoid the consumption of animal meats.
VINEYARD
Like many reputable wine houses, Shaw and Smith is a family affair. Martin Shaw and Michael Hill Smith are cousins that vowed to realise a lifelong dream of opening their own vineyard back in 1989. Thankfully, this was no pie-in-the-sky pipe dream born of excessive lunchtime refreshment - both men boast vast experience and expertise in the realm of wine. This is reflected in the quality of the M3 vineyard (standing for Martin, Michael and Matthew, the latter being the sibling of Michael), located in the rolling hills of Adelaide and home to some of the finest grapes in the southern hemisphere.