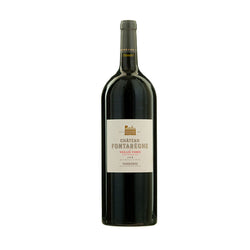 Château Fontarèche
Château Fontarèche Vieilles Vignes Rouge 2019, Corbières, France - 1.5l
Corbières is the largest quality in France's Languedoc-Roussillon region. The standard of winemaking is as varied as the natural landscape, but when it's good, it's very good. This old-vine cuvée comes from a family-owned property at the heart of appellation, and it demonstrates just how good Corbières can be. Garnet red in colour, it boasts a rich array of black fruit aromas with hints of soft spice behind. Take a sip, and it's a big, mouth-filling wine with elegant tannin, though there's plenty of well-balanced freshness and a touch of minerality to keep everything in harmony.
GRAPE
40% Carignan
30% Syrah
20% Mourvèdre
10% Grenache
WHAT IT GOES WITH
They make this in the south of France, but the Portuguese influence is palpable. It's good with all sorts of meat, but it's hard to beat chanfana, the Portuguese peasant lamb dish.
ABOUT THE VINEYARD
The de Lamy family has made wine at Château Fontarèche since 1682. The beautiful property extends over 145 hectares of vines and 10 hectares of forests. When we talk about old vines, we're not kidding - the oldest vines here are Carignan, planted way back in 1962. Carignan is the key red grape variety at Fontrarèche, but the team cultivates no fewer than 17 individual grape varieties. Interestingly, the vineyard has been tended to by an exclusively Portuguese team for over 20 years, their savoir-faire when it comes to winegrowing in hot temperatures proving invaluable.
FARMING
Conventional.