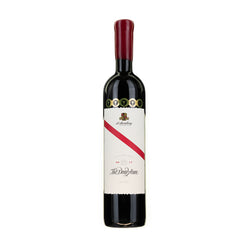 d'Arenberg
d'Arenberg 'The Dead Arm Shiraz' 2017, McLaren Vale, Australia - 1.5l
Dead Arm seems like a strange condition to namecheck on a fine wine. This is a fungal infection that causes the arm of a vine to wither, gradually becoming deadwood. Grapes on the other side of an impacted vine will be bursting with life and flavour, however - and that's the experience of this full-bodied Shiraz. Bold, dark fruit will tantalise both nose and palate, tempered with hints of liquorice degree of spice, tobacco and leather. An oaky finish and aftertaste ensures that Dead Arm will continue to surprise and delight. There is a good reason why this 2017 vintage cleaned up at the 2020 London Wine Awards.
GRAPE
WHAT IT GOES WITH
This Shiraz is best enjoyed with a hearty red meat dish on a winter's night. Slow-cooked lamb shank is arguably the perfect pairing for Dead Arm, but really, any roasted meat will make an ideal companion meal. It's also a great wine to pair with dark chocolate (the higher the cocoa content, the better) and rich cheeses.
ABOUT THE VINEYARD
d'Arenberg is an institution in the world of Australian wine, creating fine vintages in the Adelaide Hills since 1912. Owned and managed by the Osborn family, the vineyard is now under the control of a fourth generation. Experts in Rhône valley grapes, and enthusiasts of a quirky moniker for their produce, d'Arenberg have a strictly traditional approach to winemaking. This is the only Australian vineyard to utilise basket pressing, and are producers of unfiltered red wine. This ensures that the production process remains pure - and the flavour of even the youngest wines from the d'Arenberg stable belie their tender years.
FARMING

Organic. Vegan.