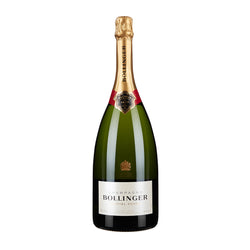 The Bollinger House
Bollinger 'Special Cuvée' NV, Champagne, France - 1.5l
Bollinger and champagne have long been intrinsically linked, and this tasteful magnum effortlessly embodies why. Truly liquid gold, this is a unique twist on the classic Bollinger, blending a variety of grapes for a distinct and unforgettable taste. The champagne is as dry as can be, with a rich, toasty and full-bodied flavour that tantalises the tongue and lingers long on the palate. The balance of grapes is immaculate, comprising of two-thirds pinot noir accompanied by a variety of aged house winesto createthe benchmark product of the Bollinger house. This classy and flavourful magnum makes a perfect gift or celebratory offering, marking you as a guest of immaculate taste.
GRAPE
Chardonnay, Pinot Meunier, Pinot Noir
WHAT IT GOES WITH
Bollinger Special Cuvée Brut NV is the perfect champagne for any occasion; arriving with a magnum in your hands is certain to endear you to any host. When dining, it's an ideal companion toseafood, white meat and caviar.
ABOUT THE VINEYARD
The Bollinger house has been located in France's fabled Champagne region for over 400 years, though it truly rose to prominence during the 19th Century. Bollinger earned the royal seal of approval from Queen Victoria, who assigned the Royal Warrant to the house and declared them the official supplier to her court. Bollinger enjoyed a second golden age in the mid-20th Century, when the house earned global recognition thanks to an extensive period of travelling and promotion. It was during this era that Special Cuvée Brut NV was born, as Bollinger acquired a number of Pinot Noir vineyards.
FARMING

Organic. Vegan.