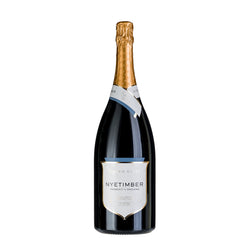 Nyetimber
Nyetimber Classic Cuvée Multi-Vintage, West Sussex, England - 1.5l
Aged for at least three years in Nyetimber's cellars, the pale golden hue of this multi-vintage sparkling wine bursts with bubbles upon uncorking. The scent of the wine blends spice with the toasty aroma of mouthwatering brioche, while the palate will be treated to a complex amalgamation of baked apple, roasted almonds, sweet honey, and a hint of buttery almonds. The initial taste sensation is one of intensity balanced by delicate subtlety, and the finish is lengthy and satisfying. Elegant and unmistakably unique, Nyetimber have constructed the embodiment of the English wine experience.

GRAPE
Chardonnay, Pinot Noir, Meunier

WHAT IT GOES WITH
A chilled glass of Nyetimber's Classic Cuvée Multi-Vintage is best enjoyed alongside lightly grilled poultry or other white meats, making it ideal for picnics and terrace gatherings, though it also makes a fine accompaniment of a seafood feast backed by the sound of crashing waves
ABOUT THE VINEYARD
Regarded as one of the finest sparkling wine producers in England, Nyetimber planted its first vines in 1988. The house now owns seven vineyards across Kent, Hampshire and Surrey. This was the first sparkling wine to blend Chardonnay, Pinor Noir and Meunier. All grapes are grown to Grande Marque standard, and every bottle of Nyetimber features exclusively 100% homegrown grapes.
FARMING

Conventional. Vegan.