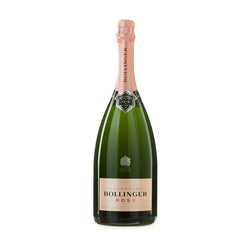 Bollinger
Bollinger 'Rosé' NV, Champagne, France - 1.5l
Bollinger needs no introduction to any champagne aficionado. What may come as a welcome surprise is this new addition to the celebrated champagne house's line-up. If you have a sweet tooth, you'll fall in love at first sight, scent and taste of Bollinger Rosé. A glorious, deep pink colouring opens the nose to mouthwatering aromas of strawberry, cherry, brioche, grapefruit and roasted almonds. It's when Bollinger Rosé is poured into a flute that it really comes to life, however. A fresh, rich and creamy as any Bolly enthusiast will expect, this sparking wine perfectly toes the line between sweet and acidic, leading to a pleasingly lingering finish.

GRAPE
Pinot Noir, Pinot Meunier, Chardonnay

WHAT IT GOES WITH
Perfect to enjoy alone, especially on a summer's day, this sparkling rosé can also pair well with seafood, mild cheese and pork dishes

YEAR
N/A

ABOUT THE VINEYARD
Is there anything left to say about Bollinger, one of the most celebrated champagne houses of all time? The house that Madame Bollinger built continues to go from strength to strength, thanks in no small part to its location in Côte des Blancs. The terrain offers perfect growing conditions for Bollinger's celebrated Pinor Noir and Chardonnay grapes, while the lengthy aging process and sustainable approach to winemaking ensures that Bollinger remains at the cutting edge of the industry. To paraphrase Samuel Johnson, to be tired of Bollinger is to be tired of life's greatest luxuries.