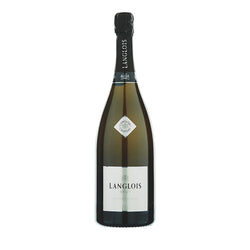 Langlois-Chateau
Langlois-Château Crémant de Loire Brut NV, Loire, France - 1.5l
This Brut NV could easily be mistaken for a Champagne proper, but the presence of Loire grape varieties gives it a character all of its own. It's pale yellow in colour with a complex nose of white flowers, white peach, grapefruit and more. In the mouth, it's crisp and bracingly acidic, though showing considerable delicacy and balance at the same time. It finishes on tart green apples that'll have you begging for another sip.
GRAPE
Chenin Blanc, Chardonnay & Cabernet Franc
WHAT IT GOES WITH
Sub this for a Champagne at your next box social and see what your guests have to say. Food-friendly in the extreme yet perfectly pleasant as an aperitif, this is a truly versatile drink. Try it with some old school fish and chips or a bowl of steamed mussels, or even with a slice of apple pie.
ABOUT THE VINEYARD
Some people consider Crémant to be a poor man's Champagne, but nobody told the Bollinger family. Langlois-Chateau is a top producer of Crémant de Loire and just so happens to be owned by that most distinguished of Champagne houses. The fruit for this one comes from 20 partner growers in the Saumur region of the Loire Valley, particularly the Côtes de Saumur, Coteaux de St Léger, Puy Notre Dame, Bas Layon, Haut Layon and Montreuil Bellay.
FARMING

Sustainable. Vegan.