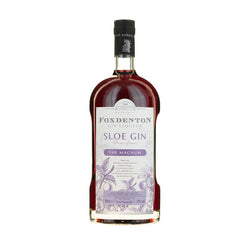 Foxdenton
Foxdenton Sloe Gin - 1.5l
We are going to need a bigger hip flask! This is not your average sloe gin. This is a stronger and more muscular take on the style, so only a magnum will contain all those powerful fruit and botanical flavours. Paler in colour than many sloe gins on the market, this has an enticing nose of juniper leading into a full-on palate of rich, sweet plums. Its long, lingering finish is refreshing and will have you coming back for another sip.
INGREDIENTS
Wild sloes, Foxdenton London Dry Gin and British sugar
WHAT IT GOES WITH
All that sloe-y goodness is just crying out to be shared among friends, whether that's from a hipflask in the English countryside or as a post-meal digestif. This is also an incredibly versatile cocktail base, so let your inner mixologist run as wild as those sloes!
ABOUT THE MAKER
The Foxdenton Estate has been in the hands of the Radclyffe family and its ancestors since 1367. Since the 1800s, the estate has enjoyed a long association with hunting, shooting and field sports. This was thirsty work, and Foxdenton began to produce its own fruit liqueurs for the private consumption of its owners and visitors. Current proprietor Nicholas Radclyffe took the reins in 2001 and decided that Foxdenton's old recipes should be reproduced on a larger scale for the enjoyment of others. After much meticulous trial and error, Foxdenton Sloe Gin was relaunched in 2001.