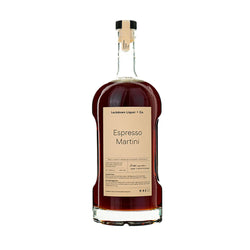 Lockdown Liquor & Co.
Espresso Martini - 1.5l
The Espresso Martini has been a staple of the London scene since the early 1980s, and this premixed bottle ensures that it remains in the public consciousness. The result is an exercise in pure indulgence. It's rich and creamy, and sure to provide a little revival if you're starting to flag toward the end middle or end of a gathering. Pour this cocktail after a substantial festive feast and you'll soon feel back to your best.

INGREDIENTS
Vodka, coffee, syrup, chocolate bitters

WHAT IT GOES WITH
A little too rich to be taken with a meal, but a wonderful companion to treats such as excellent European chocolate.

ABOUT THE MAKER
Positives were hard to find in the lockdown of 2020, but the forming of Lockdown Liquor & Co. was one of them. Launched in London by Jack and Natasha Durling, the business specialises in expertly pre-mixed cocktails that only use the very finest ingredients to create astonishing blends and flavours. Starting out as recommendations over Zoom calls for an established business, Lockdown Liquor & Co. has grown in stature. This benefits everybody - all profits result in philanthropic donations to health charities.