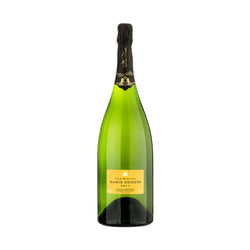 Marie Demets
Marie Demets Brut NV, Champagne, France - 1.5l
This champagne has a beautiful pale yellow colour and plenty of racy bubbles. On the nose there's a lot going on, ranging from floral and fresh white fruit to notes of angelica, blackcurrant and redcurrant. Take a sip and expect wonderful freshness with a whole lot of biting acidity of the sort that'll keep you coming back for more.
GRAPE
90% Pinot Noir
10% Chardonnay
WHAT IT GOES WITH
Pop the cork while a friend shucks some fresh oysters – need we say more.
ABOUT THE VINEYARD
You'll find Champagne Marie Demets in the Côte des Bar, down in the south of the Aube region of Champagne. The Demets family lays claim to 10 hectares of vines across the villages of Gyé-sur-Seine, Neuville-sur-Seine and Courteron. The vineyards are further divided into 14 distinct parcels of land, based on soil types, exposure and all the good stuff that goes into what the French call "terroir". Each parcel has an identity that is all its own, producing distinctive wines with particular flavours and characteristics that give the Demets family a lot to work come blending time. The Demets family have truly mastered the art of blending Champagne, and they're as comfortable expressing the characteristics of an individual vintage as they are preserving the house style for non-vintage Champagnes.
FARMING

Conventional. Vegan.