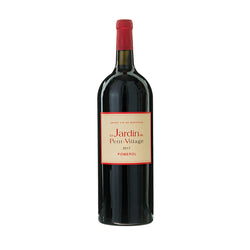 Château Petit-Village
Château Petit-Village 'Le Jardin de Petit-Village' 2019, Pomerol, Bordeaux, France - 1.5l
Shrewd Bordeaux collectors have long seen the value to be had in the so-called "second wines" from top-tier châteaux. Le Jardin de Petit-Village is a perfect second wine, offering a generous taste of the house style at the esteemed Château Petit-Village without quite the price tag. It's a dark inky colour, almost black, and has an intoxicatingly crisp fruit nose. Round, elegant and harmonious in the mouth with a silky Merlot grip and serious length.
GRAPE
WHAT IT GOES WITH
Great Pomerol is probably Bordeaux's headiest, most sensual and hedonistic red. Treat it accordingly when it comes to the dining table - Go all out and pair this with a fatty slice of foie grasor pork belly.
VINEYARD
The rarest and most expensive Bordeaux wines come from Pomerol. Château Petit-Village is a stone's throw from the Pomerol plateau, home to various no-name estates such as Petrus and Lafleur. It's not a bad neighbourhood, all told. The charming Petit-Village and its ultra-modern winery belong to AXA Millésimes, owners of other top-tier châteaux like Pichon Baron and Suduiraut, as well as the legendary Quinta do Noval.