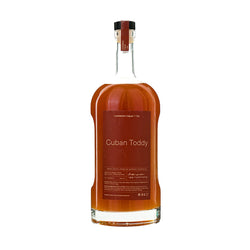 Lockdown Liquor & Co.
Cuban Toddy - 1.5l
The best winter cocktails can be enjoyed hot or cold, and that's certainly the case with the Cuban Toddy. Using spiced rum as a base, blended with ginger for an additional kick, you can pour this pre-mix over the rocks or heat it up to warm your cockles. The presence of tea, meanwhile, balances this heat with a little sweetness. Sprinkle grated nutmeg into the top of the glass to maximise the impact of the ingredients and ensure that you're filled with festive cheer.

INGREDIENTS
Spiced rum, ginger cordial, agave nectar, rooibos & turmeric tea blend

WHAT IT GOES WITH
Designed to appeal to anybody feeling festive, enjoy this cocktail at a Christmas gathering over similarly themed snacks

ABOUT THE MAKER
Positives were hard to find in the lockdown of 2020, but the forming of Lockdown Liquor & Co. was one of them. Launched in London by Jack and Natasha Durling, the business specialises in expertly pre-mixed cocktails that only use the very finest ingredients to create astonishing blends and flavours. Starting out as recommendations over Zoom calls for an established business, Lockdown Liquor & Co. has grown in stature. This benefits everybody - all profits result in philanthropic donations to health charities, including the NHS, with a particular emphasis on COVID-related complications.