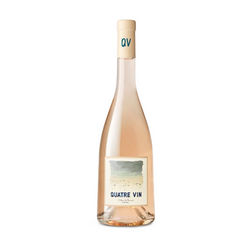 Chateau d'Esclans
Quatre Vin Rosé 2021, Provence, France - 1.5L
Fresh from making a substantial splash on the London dining scene, Quatre Vin rosé offers a light floral aroma upon uncorking, giving way to a delicate balance of flavours that include juicy strawberries and peach, balanced by a mild acidity and pinch of salt. Deeply refreshing on a summer's day without sacrificing depth of flavour, Quatre Vin needs to be tasted to be believed.
GRAPE
Cinsault, Grenache, and Syrah
WHAT IT GOES WITH
Delectable when served alone, but Quatre Vin rosé also makes a fine partner for hard cheeses, fresh fish and seafood, or Mediterranean cuisine.
ABOUT THE VINEYARD
The Quatre Vin vineyard has been under the stewardship of the Negrel family for seven generations, with the Côtes des Provence winery currently owned and operated by Maud and Matthieu Negrel. The brand itself, meanwhile, is owned by reality TV star Oliver Proudlock and his wife Emma-Louise, Elliot Awin, and Paula Anton. Each wine produced by Quatre Vin is fully organic and sustainably produced, with the brand offering a selection of rosé, white, and red wines - each of which are equally tantalising to aficionados.
FARMING

Conventional.