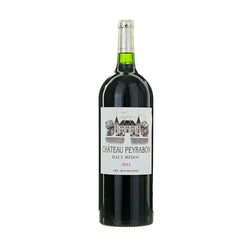 Chateau Peyrabon
Château Peyrabon 2016, Haut-Médoc, France - 1.5l
If you're looking for a perfectly-balanced Bordeaux red, enter Chateau Peyrabon. From the moment you uncork this magnum you will be struck by the deep, rich nose - a hint of smoke, tempered by exotic oriental spice. On the palate, this is a deep and fruity red - with blackcurrant and plum the most prominent - balanced by a delicate hint of cedar wood and vanilla. The taste builds steadily, with the lifted tannins making the presence known, before giving way to a lingering finish. An immaculate blend at an agreeable price point makes Chateau Peyrabon one of the best-kept secrets in red wine.
GRAPE
Cabernet Sauvignon, Merlot, Petit Verdot
WHAT IT GOES WITH
The perfect accompaniment for a hearty meat feast. To maximise your meal, pair with this wine with venison, beef, lamb or even poultry.
ABOUT THE VINEYARD
Nestled among the scenic climes of Haut-Medoc, Chateau Peyrabon dates back to the 18th Century. Following construction 1766, the produce of the chateau rapidly gained popularity. By the late 19th Century, the owner of the chateau - Arnaud Roux - took legal action, aiming to reclassify the definition of the Medoc region to include Chateau Peyrabon. As you'll see from the name of this wine, he was successful. Today, Chateau Peyrabon covers some 50 hectares and is under the stewardship of Patrick Bernard - owner and founder of the celebrated merchant Millésima. Focussing on Bordeaux red, the vineyard is among the most reputable in the area.
FARMING

Conventional.