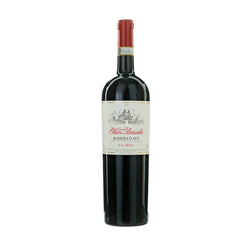 Tenuta Olim Bauda
Tenuta Olim Bauda Barbera d'Asti 2019, Piedmont, Italy - 1.5l
Barbera is too often written off as a workhorse grape. Get your hands on one from a top producer with quality vineyards, and you'll find quite the opposite. This Barbera's got a nice ruby red colour, simultaneously bright and deep. Swirl a little in your glass and you'll catch a big, inviting nose of dark cherry and berry fruits. In the mouth, it's generous, enveloping and full-bodied. There's plenty of fruit and a long, enticing finish.
YEAR
2019
GRAPE
WHAT IT GOES WITH
Pull the cork, whip up an earthy mushroom risotto and transform your midweek dinner into rustic Italian fare.
ABOUT THE VINEYARD
Once recognised as one of Piedmont's top producers, Tenuta Olim Bauda had fallen on hard times in 2000. That all changed when its new owners, three siblings, set out to revive the estate and restore it to its former glory. Spoiler alert: They managed it. With a little help from Beppe Caviola, a well-known consultant, and some shrewd land acquisition in the Gavi di Gavi region, they've turned things around. Today, Tenuta Olim Bauda has developed a sterling reputation as a top producer of Gavi and Barbera d'Asti. The estate's wines are now no strangers to critical acclaim, often cited in Italy's Gambero Rosso and Robert Parker's Wine Advocate.