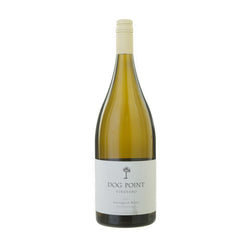 Dog Point
Dog Point Vineyard Sauvignon Blanc 2019, Marlborough, New Zealand - 1.5l
Few white wines are quite as easy to enjoy as a high quality Sauvignon Blanc from the Marlborough region, and Dog Point is a fine ambassador. This is perfectly balanced and moreishly zesty with hints of lemon, grapefruit, berries and pear. All of this is matched with vibrant acidity and a lingering, smoky finish. Dog Point really is a perfect example of how great New Zealand Sauvignon Blanc can be!
GRAPE
WHAT IT GOES WITH
The distinctive aromas of this Sauvignon is an ideal match for fresh seafood, young goat's cheese and summer vegetables.
ABOUT THE VINEYARD
Founded over 30 years ago, Dog Point (the moniker is a reference to the wild dogs that once populated the area) is New Zealand's oldest private vineyard, and the largest organic winemaker in the country. The business was we know it was formed in 2002, with Ivan and Margaret Sutherland joining forces with business partners James and Wendy Healy. These founders remain invested in the day-to-day business of Dog Point, with the next familial generation being groomed to take over someday. Blessed with near-constant sunshine, the vineyard offers the perfect conditions for Sauvignon Blanc grapes to gracefully age to perfection - making all Dog Point wine ready to drink upon purchase.
FARMING

Organic. Vegan.