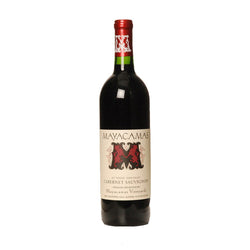 The Magnum Company.
Mayacamas Mt Veeder Cabernet Sauvignon 2014, Napa Valley, USA
While Mayacamas has forged a fine reputation for all their wines through the years, the 2014 Cabernet Sauvignon has aged to perfection at this stage. Very bold and dry, the fruity tones of this red are a little muted but undeniably present - blackcurrant and raspberry especially - which is all part of an immaculately balanced drinking experience. From the moment the bottle is uncorked you'll be treated a warm aroma of vanilla and roasted mushroom, which gives way to a smooth body. An aftertaste of olives and cacao completes an unmistakable - and unmissable - red wine that instantly invites you to refill your glass and enjoy another.
GRAPE
WHAT IT GOES WITH
Ideal for any strong and gamey meat, especially venison, this wine can also pair well with a beef or steak dish, or as the accompaniment to a rich cheese board.
ABOUT THE VINEYARD
Located atop Mount Veeder (a dormant volcano some some 750 metres above sea level) in Napa Valley, the Mayacamas story began in 1889. John Henry Fisher planted vines on the property, only to be put out of business by the 1906 San Francisco earthquake. Following the abolition of prohibition, Jack Taylor purchased the estate, renamed it Mayacamas (the Native American word for property) and replanted vines once more. In the late 1960s, the estate was sold to Bob Travers, who truly brought this vineyard to prominence.