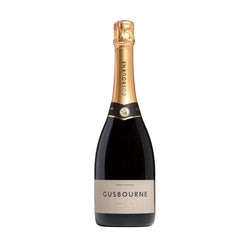 Gusborne
Gusbourne Brut Reserve 2016, Kent, England - 1.5l
English sparking wine sometimes lacks the glamorous reputation associated with products that haul from across the channel. Gusbourne, based in Kent, seem single-handedly destined to change this. The 2013 vintage of this brut was awarded Platinum recognition at the Decanter world wine awards. This latest vintage sports a new label, but the taste sensation remains equally appealing. Bright and golden in shade, the explosive bubbles provide a nose of citrus tempered with baked brioche. On the tongue, this aroma switches to a sweet and fruity flavour with a hint of lemon finish. Gusbourne sparkling wine is regularly served at Buckingham Palace, and it's not hard to see why.
GRAPE
Chardonnay, Pinot Noir and Pinot Meunier
WHAT IT GOES WITH
This sparkling wine is a natural pairing for fish and shellfish. Basically, if it once swam in the sea, Gusbourne will revive it – if only on the palate. This magnum also works well as an aperitif, however.
ABOUT THE VINEYARD
The Gusbourne Estate covers some 60 hectares in Kent and a further 30 in West Sussex. These vineyards provide all grapes used to create Gusbourne Brut, ensuring that no outside influence can impact the famous flavour of this sparkling wine. Burgundian clones make up the majority of the planting, leading to a lower yield but unmistakable quality. The Gusbourne vineyards are positioned in order to make use of a unique microclimate within the the ever-changing British conditions, ensuring that nature can take its course without the need for human interference. The results of this approach speak for themselves.
FARMING

Sustainable. Vegan.