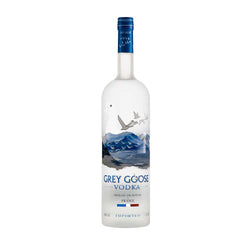 Grey Goose
Grey Goose Vodka - 1.5
Flavoured vodkas have declined in popularity in recent years, superseded by a vast array of infused gins. There is still a place in our hearts for this classic spirit, however - especially a premium brand such as Grey Goose. The manufacturers of Grey Goose, Sidney Frank Importing Co, enlisted the services of cognac master François Thibault devise the flavour of this vodka, and it shows. Distilled in Picardy, Northern France, this premium vodka is best enjoyed neat at room temperature. Creamy on the palate with a spicy and warming aftertaste, there are also hints of rye and star anise to be found here. Grey Goose is more than just a spirit. It is a luxurious sipping experience.
WHAT IT GOES WITH
Grey Goose can be blended with any traditional mixer, though this would be considered a waste by many. This vodka stands alone as a taste sensation, and is best enjoyed neat to fully appreciate the subtleties of the flavours found within. When paired with food, Grey Goose is a natural companion to caviar. You'll struggle to find a more decadently delicious apéritif. This vodka also makes an excellent base ingredient for a high-quality cocktail.
ABOUT THE MAKER
Le Logis Grey Goose utilises a unique distillation process, using wheat grown in Picardy throughout the winter and plucked in summer. This creates the creamier taste of this vodka; several months of additional growing time ensures that the wheat is softer. Gluten is also removed from the product during the distillation process. The vodka is then filtered through limestone in the Cognac region, where natural spring water is applied for purification. The product is bottled and corked, ready to be shipped and enjoyed by connoisseurs of premium quality spirits.