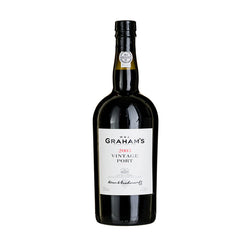 Graham's
Graham's 2003 Vintage Port - 1.5l
When it comes to port, there are good years, there are great years, and there is 2003 - arguably a year that stands alone in the realms of quality. This offering from Graham's is a flawless example of why this is so, with a deep and luscious ruby flavour, compliments of ripe blackberries, matched by an irresistible aroma and taste of dark chocolate and hazelnut. Tempered by the scent of violet that virtually explodes from the uncorked bottle, and boasting an aftertaste of liquorice that is sure to satisfy both savoury seekers and those with a sweet tooth, we defy any port enthusiast to find fault with this astonishing vintage.

GRAPE
WHAT IT GOES WITH
Pass the cheese – Graham's is arguably the ultimate companion to an aged and mature cheeseboard. It can also be enjoyed with rich and luxurious puddings, especially chocolate

ABOUT THE VINEYARD
Graham's is a family-owned business – the only British port producer to claim such a title –comprising of five vineyards throughout the Douro mountain terrain. With each vineyard boasting a unique microclimate, varying from summer heatwaves to below freezing conditions in the winter, the harvests are blended to create a memorable drinking experience. Graham's ports are created using traditional techniques, including treading, and aged to perfection before being bottled and released for sale.

YEAR
2003