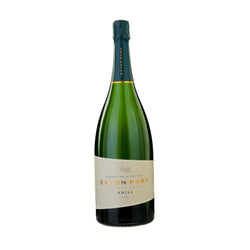 Exton Park
Exton Park Brut RB/32 NV, Hampshire, UK - 1.5l
English sparkling wine may lack some of the reputational lustre of champagne, but Exton Park are taking great strides to changing this conception. RB/32 - a Reserve Blend of 32 different wines - is a delight from start to finish. Pale gold in colour, uncorking this bottle will treat the nose to rich aromas of sweet brioche, baked apple and citrus fruit. On the palate, it's a bold and expressive experience, with an unmistakable and pleasing acidity appropriately softened by a range of fruits, soft and sharp alike. Overall, the RB/32 offers an ideally balanced taste experience that hails from British shores, worthy of uncorking to mark any special occasion.
GRAPE
Pinot Noir and Chardonnay
WHAT IT GOES WITH
Light and fresh, this magnum is best paired with food that would benefit from citrus notes, such as grilled fish or poultry. Naturally, it's also perfectly refreshing as an aperitif
ABOUT THE VINEYARD
The Exton Park vineyard is a young venture, initially planted in 2003. Located in the beautiful surroundings of Hampshire, Exton Park specialises in Chardonnay, Pinot Noir and Pinot Meunier grapes - all of which are grown independently across nine disparate plots. The team at Exton Park, which includes Managing Director Kit Ellen, Vineyard Director Fred Langdale and Wine Director Corinne Seeley, have spent over a decade trialling different combinations to create a perfect and consistent stock of wines. This refreshing, sparkling vintage is a great example of how such patience and effort can pay off to great effect.
FARMING

Sustainable. Vegan.