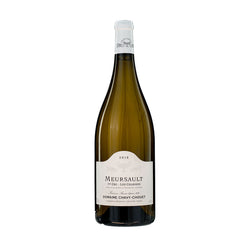 Chavy-Chouet
Domaine Chavy-Chouet Meursault 'Les Narvaux' 2018, Burgundy, France - 1.5L
Chardonnay is always dry, but this magnum takes such an adjective to the next level. Don't be perturbed by such a statement, though. In the hands of the skilled Chavy family, this white walks the line perfectly between acidity and softness, while also veering into a bold, creamy finish. Lemon is the dominant aroma, but one the tongue expect a balance of dairy, citrus, vanilla and wood. With plenty of depth of a long finish, this is a white wine to savour and sip slowly, enjoying each and every taste sensation it provides.

GRAPE
WHAT IT GOES WITH
Like any Chardonnay, this dry white wine is a fine companion to fish, cheese or other salads. Essentially, just keep the food pairing light and you'll enjoy the benefits.
YEAR
2019
ABOUT THE VINEYARD
The Chavy family are firmly established as reputable winemakers in the Côte de Beaune region of Burgundy for many years. Formerly, Hubert Chavy would sell the grapes grown in the vineyard to other, larger winemakers. Romaric Chavy, son of Hubert, amended the practices of the business, ensuring that Domaine Chavy-Chouet has established itself as a reputable bottler and manufacturer of its own accord. Despite tender years, Romaric boats years of experience, having began an education in the world of wine at just 12 years. Taking ownership of the vineyard at just 22, following work experience across the globe, Romaric Chavy - and the Domaine Chavy-Chouet - are stars of both the present and future of wine.