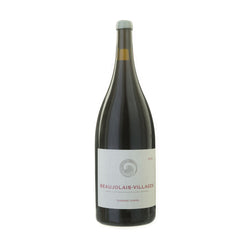 Domaine Chapel
Domaine Chapel Beaujolais-Villages 2018, Régnié, France - 1.5l
Youth does not always equal immaturity, as this fine 2018 red proves. Belying its tender years, this is a well-balanced and full-bodied wine, light and velvety on the palate but packed with flavour and energy. Multiple scents and tastes compete for attention, including red fruits and berries chocolate, liquorice, herbs and spices, but the wine never feels overwhelming. A fine red for summer, or any situation where versatility and deftness of touch would be appreciated.
GRAPE
WHAT IT GOES WITH
This is a versatile red that  pairs well with gamey meats (most notably veal), pork and poultry dishes, as well as pasta if you're seeking a lighter meal
ABOUT THE VINEYARD
Domaine Chapel is owned and operated by David Chapel and his wife Michele, located in Régnié. Famed in particular for the growth of gamay grapes, the vineyard produces astounding wines that mature rapidly. The grapes are grown over a trio of disparate plots of land, all of which are positioned at over 400m above sea level. Domaine Chapel is also an entirely organic production house, with garden hoes and old-fashioned person-power favoured over the latest and greatest technology - or any form of artificial accelerants.
FARMING

Organic. Vegan.