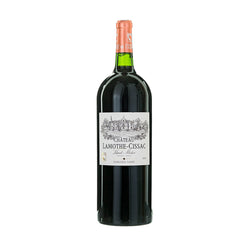 Lamothe-Cissac
Château Lamothe-Cissac 2018, Bordeaux, France - 1.5l
This is an old-school Bordeaux with balance, elegance and a whole lot of savoury fruit character. It's got a deep, dark ruby colour. Take a whiff, and you'll find yourself irresistibly drawn toward a complex nose of blackcurrant, jammy fruits, soft spice, and subtle vanilla. The palate is all balance and finesse, with soft tannins and a deceptively delicate finish. You can drink this now, though - if you've got the self-control - you can also lay it down with confidence for another couple of years. Pick it up again, and you'll find the colour has lightened a little, and you'll be greeted by a complex set of new aromas and flavours reminiscent of leather, undergrowth, and tobacco.
GRAPE
58% Cabernet Sauvignon
35% Merlot
5% Petit Verdot
2% Cabernet Franc
WHAT IT GOES WITH
Dine like a true Bordelais by pairing this with a juicy steak, some hand-cut fries and a red wine sauce.
VINEYARD
Château Lamothe-Cissac has been in the Fabre family since 1964 when Gabriel Fabre bought it and set out to restore the vineyards and winery. Today, the 33-hectare property is in the capable hands of his son, Vincent Fabre. The vineyard lies in the Cissac commune, a stone's throw from some of Bordeaux's most famous vineyards, with Pauillac due east and Saint-Estèphe to the north. The vineyard lies on a typical gravel subsoil covered in places with clay-limestone and elsewhere in clay and gravel – in short, the perfect terroir for classic, Cabernet Sauvignon-led Bordeaux.
FARMING

Conventional. Vegetarian.