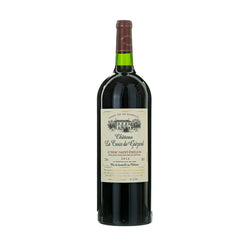 Chateau la Croix de Grezard
Château La Croix de Grézard 2019, Lussac-Saint-Émilion, France - 1.5l
Château La Croix de Grézard is a name familiar to many merlot enthusiasts, as this vineyard offers some of the finest-balanced reds on the market. Delightfully, 2016 was arguably the strongest year for decades for this producer. As is to be expected, the overriding sensation is a smooth dryness, with plum, black cherry, cloves and just a pinch of spiced orange making up the appealing concoctions of taste sensations. A lingering finish of smoke and leather that will not overpower any accompanying meal completes an appealing magnum, which is matured to perfection and ready to be enjoyed immediately.

GRAPE
Merlot, Petit Verdot, Cabernet Sauvignon
WHAT IT GOES WITH
A merlot this smooth and silky was born to be enjoyed alongside a Sunday roast, or any similarly hearty feast - it's a natural pairing with red meat.
ABOUT THE VINEYARD
While many vineyards across the globe are celebrated for their sprawling size, Chateau la Croix de Grezard takes a refreshingly boutique approach. Covering around 15 acres in Lussac St. Emilion, a satellite region within the Bordeaux territory. The vineyard, owned and operated by Blighty's own Bill Boulter, is predominately host to merlot grapes, though a sprinkling of cabernet and verdant add complexity to the produce. The vines are aged to perfection, typically between 30 and 60 years in age, before being harvested and fermented in cement. Any wine from Chateau la Croix de Grezard is aged for a minimum of 18 months before being bottled on-site and made available for connoisseurs to enjoy.
FARMING

Conventional.