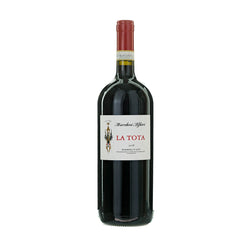 Marchesi Alfieri
Marchesi Alfieri 'La Tota' 2018, Barbera d'Asti, Italy - 1.5l
The first thing that will strike you about this wine is the deep, dark plum colouring. Thankfully, the beauty of the shade is matched by the complexity of the flavour. Fuller-bodied than many may be expecting, this Barbera combines elements of leather, chocolate, fruit, vanilla and blackberries - all of which contrast sharply with the herbaceous, earthy nose. The acidity of La Tota really stands on its own, creating an appealing finish, when consumed with food. Overall, this is highly recommended for anybody seeking a dry red that truly comes alive when paired with a meal. 
GRAPE
WHAT IT GOES WITH
Full-bodied and versatile, this wine can pair with game, red meat, poultry and pasta alike. The bolder the food, the better the match
ABOUT THE VINEYARD
Marchesi Alfieri has a history to rival some of the most celebrated French wine houses. Located in a castle within San Martino Alfieri, a commune found some 30 miles southeast of Turin, Marchesi Alfieri dates back to the late 17th Century. Taking its name from the Alfieri family that once occupied these hallowed walls, descendents of this lineage remain in control of the vineyard to this day. Boasting in excess of 20 hectares of growing space, Marchesi Alfieri is a landmark in the Italian industry, doubling up as a tourist attraction and a fine purveyor of wines.
FARMING

Biodynamic. Vegan.