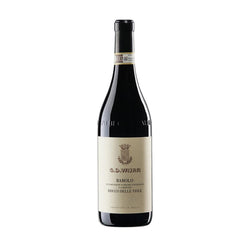 G.D. Vajra
G.D. Vajra 'Bricco delle Viole' Barolo 2015, Piedmont, Italy - 1.5l
Young wines rarely offer quite such an intense flavour sensation. That cannot be said of Barolo Bricco Delle Viole, the flagship wine of G.D. Vajra. The aroma offers an irresistible treat for the senses, blending cherry, rose, leather, pine, and tobacco. This unabashed combination continues into the taste. This is an acidic red with a welcome sense of depth, blending sweet and deep fruit flavours with a complex spicy finish that lingers long on the tongue and lips. Decant or allow this wine to breathe in the glass for additional benefit, but be prepared for an astonishing taste sensation from the moment you pop the cork.
GRAPE
WHAT IT GOES WITH
Roasted red meats will always pair well with this wine. However, you'll find similar pleasure in matching this red with a strong, mature cheese – or if seeking a lighter bite, use it to optimise the taste experience of truffles or mushrooms.
ABOUT THE VINEYARD
GD Vajra has been a part of the Italian wine industry since 1972. The founder of the vineyard, Aldo Vaira, retains control to this day - the moniker is a tribute to his father, Giuseppe Domenico. GD Vajra presently owns over 60 hectares in the village of Vergne, which can be found in Barolo territory. While Aldo Vaira is strictly a traditionalist when it comes to winemaking, there are unique flourishes to this vineyard - not least the fact that grapes are grown at high altitude, in excess of 400 metres above sea level. Such elevation permits and unspoiled growth period that unleashes hitherto-untapped levels of flavour.
FARMING

Organic. Vegan.